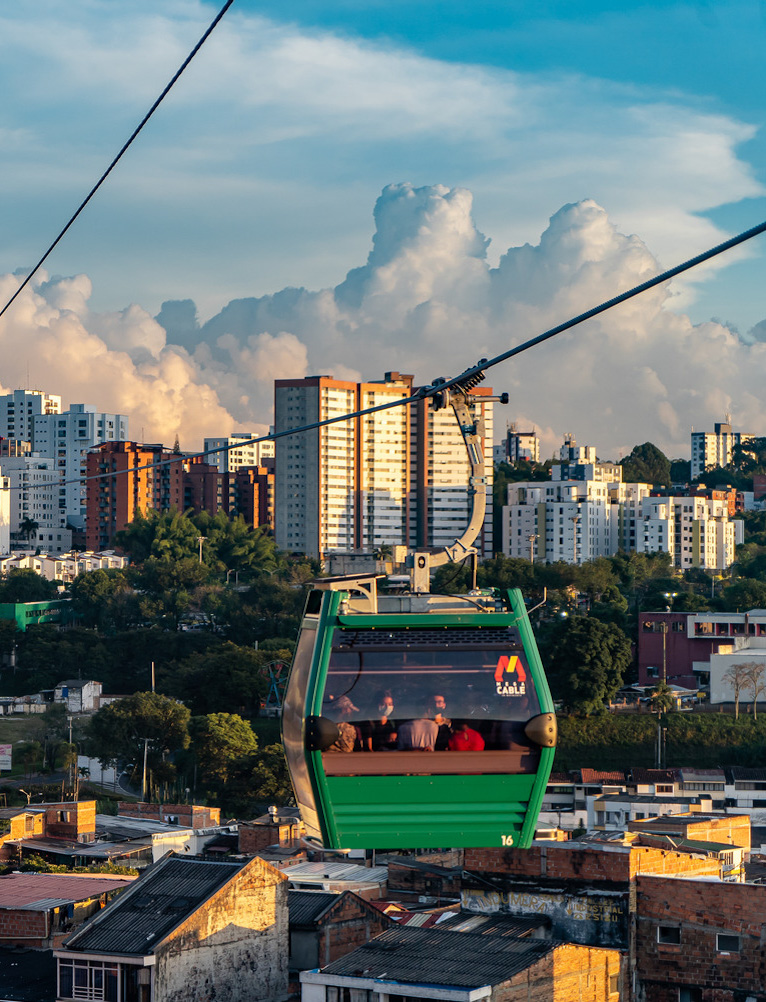 Colombia – Pereira – 2021
Pereira Megacable
Pereira Megacable is the first urban gondola lift to be 100% integrated into the public transport system of the city of Pereira. It is also the first lift in the country to be equipped with a DirectDrive®.
product range
Urban Gondola Lift
Application
Access
More about
The project
The Megacable gondola lift is connected to the city's Megabús transport network. It connects the Villa Santana district to the centre of Pereira in just 14 minutes, compared to over 45 minutes with the transfers that were previously necessary.
Almost 3400 metres in length, the Megacable is Colombia's largest mass passenger aerial ropeway, serving more than 60,000 people.
Discover
Pereira Megacable
length
3377 m
Elevation
123 m => even terrain
Capacity
up to 1400 people/h
Speed
5 m/s
Number of cabins
70
Number of passengers per cabin
10
Number of stations
4
Motorisation
DirectDrive®
POMA, innovation

for the project
Social inclusion
For the 500,000 inhabitants of Pereira, this new transport infrastructure has already had a strong social impact. It is the first line in the city to connect the city centre, the transport terminal, the Technological University of Pereira and the Las Brisas neighbourhood of the Villa Santana district.
Second DirectDrive®
in the country
The Megacable urban gondola lift is a major project that reinvents mobility through a sustainable and environmentally friendly means of transport.
Megacable in pictures