From 4 to 7 June 2023
UITP, the global exhibition dedicated to sustainable mobility
The UITP world summit of public transport, welcomes every year the professionals and key actors of the sector, in the heart of Barcelona. POMA, leader in urban cable transport, is taking part in this event and is expecting many of you.
It is an opportunity for participants from all over the world to exchange on the latest trends and innovations in urban mobility and public transport. In parallel to the exhibition, conferences will be held throughout the event to learn more about the latest projects developed in this growing field.
Don't miss the conference on Wednesday, June 7 from 12:00 to 13:00 (Hall 4), during which Fabien Felli, President of POMA, will speak on the integration of cable car systems as a sustainable urban transport solution.
"With new experience and growing analysis, an increasing number of operators and authorities are opening or planning cable car systems. This session will look at the key components of the successful deployments of cable cars in public transport and their integration with other modes within the urban environment."
We invite you to learn more about our sustainable approach to ropeway mobility at UITP Barcelona 2023, at stand 7C238.
Inauguration of a 2nd cable car line in Santo Domingo,
THE FASTEST IN THE WORLD !
The new urban cable car line in Santo Domingo was unveiled on Monday 1st May, by Luis Abinader, the President of the Dominican Republic.
The first urban gondola lift in the world to operate at a speed of 7m/s has been designed and built by POMA, and today it welcomes its very first passengers. The monocable runs 4,20km in the air, connecting 4 stations and promoting low-impact transport between the city centre and the suburbs. As part of the city's intermodal scheme, this new line, interconnected with the metro, will benefit the 400,000 inhabitants of the western zone of the Dominican capital.
With the first line opening in 2018, and a third under construction in the north of the country, the government affirms its commitment to transforming public transport. Cable transport is a reliable, fast and ecological solution, while simultaneously favouring social inclusion.
A 2nd ropeway
to link up the West of the Dominican capital
The oldest city in the modern world continues its strategy of developing its public transport network and reinforcing its proposals of low-impact transport solutions, with a 4,20km-long line interconnected with the metro, running at a speed of 7m/s and a flow rate of 4,500 per hour in each direction.
Line 2 of the "Teleferico Santo Domingo" is 4.20 km long, with 4 stations connecting more than 23 districts in the West of the capital. A single ticket to travel across the entire network of the capital will make it possible to take one of the 157 cabins that criss-cross the Dominican sky, and to connect the heart of the capital in the most accessible, fast, reliable and comfortable way possible with this exclusive transport, forgetting car or bus journeys of more than an hour on the traffic-heavy road network.
POMA, a pioneer and world leader in cable transport, has once again offered its savoir-faire and expertise in order to design and build an innovative and sustainable mobility solution in the heart of the city. After 2 years of work, the first passengers have taken to the skies on the fastest urban monocable system in the world !
"With this new cable car line, the aim is to continue generating a city-wide process of transformation and social cohesion, through the provision of safe and dignified public transport, complementing the local mobility proposal, providing an opportunity for access and integration to the historically marginalised sectors of the Los Alcarrizos district.

With this cable transport line, together with all the work undertaken to modernise and extend the existing transport network, we expect to see a major mobility transformation  throughout the city of Santiago, across all aspects. Mobility will be more efficient, more ecological, faster, more accessible, and generally more pleasant."

A second urban cable car in the Dominican Republic
a third one signed by POMA under construction
In 2018 Santo Domingo's inhabitants were pioneers in installing the first urban cable car in the Caribbean. The construction of this second ropeway system by POMA, a leader in urban cable transport, further strengthens the international influence of French industrial know-how and the company's expertise.
POMA is currently working on the construction of a third urban ropeway in Santiago de los Caballeros to support the urban development of the country's second largest city; the construction began in autumn of 2021. At the heart of the project is low-impact, sustainable mobility accessible to all, including a monorail, bikes, electric buses and a 12-seater gondola lift spanning almost 4km. The Santiago de los Caballeros cable car will be the third POMA line to be built in the Dominican Republic in just 6 years, making ropeway transport the symbol of innovative and ethical mobility for the country's development.
Ropeway mobility, an ethical form of transport
FAVOURING SOCIAL INCLUSION
100% electric, silent and low-carbon, covering a small surface area on the ground, the urban cable car is well-integrated into its surrounding environment, reducing car traffic and the consequent pollution.
With its capacity to overcome obstacles (rivers, steep inclines, railway lines, congested zones…) and its lightweight infrastructure, ropeway transport is a pertinent solution to environmental and mobility issues.
Moreover, the advantage of ropeway transport is that it runs uninterrupted on its own exclusive path, guaranteeing reliability in terms of regularity and journey time.
Thanks to its electric motor, the urban cable car is 30 times less polluting than the car for an equivalent journey. It opens up new ways of getting around, without polluting, in a fast, efficient and pleasant way, offering a unique view of the whole city. In Santo-Domingo, the ropeway is equipped with the latest DirectDrive motor, providing reliable and ecological transport. This POMA technology presents three advantages that are part of a complete eco-responsibility approach: a significant reduction in energy consumption, no oil consumption, and a considerable reduction in noise pollution.
This new cable car line responds to the challenges of urban transport and contributes to economic development and growth. This well-integrated transport system that connects residents to the city will open up large urban areas, providing local residents with easier access to the primary employment-rich zone in the city centre, while avoiding road traffic in the most congested areas of the city. The low-impact, sustainable mobility of cable transport offers a better quality of life for the local population. By connecting the inhabitants directly to employment opportunities and by upgrading public spaces, the authorities intend to give new economic and social impetus to the districts served by the line.
Discover the Teleferico of Santo Domingo in pictures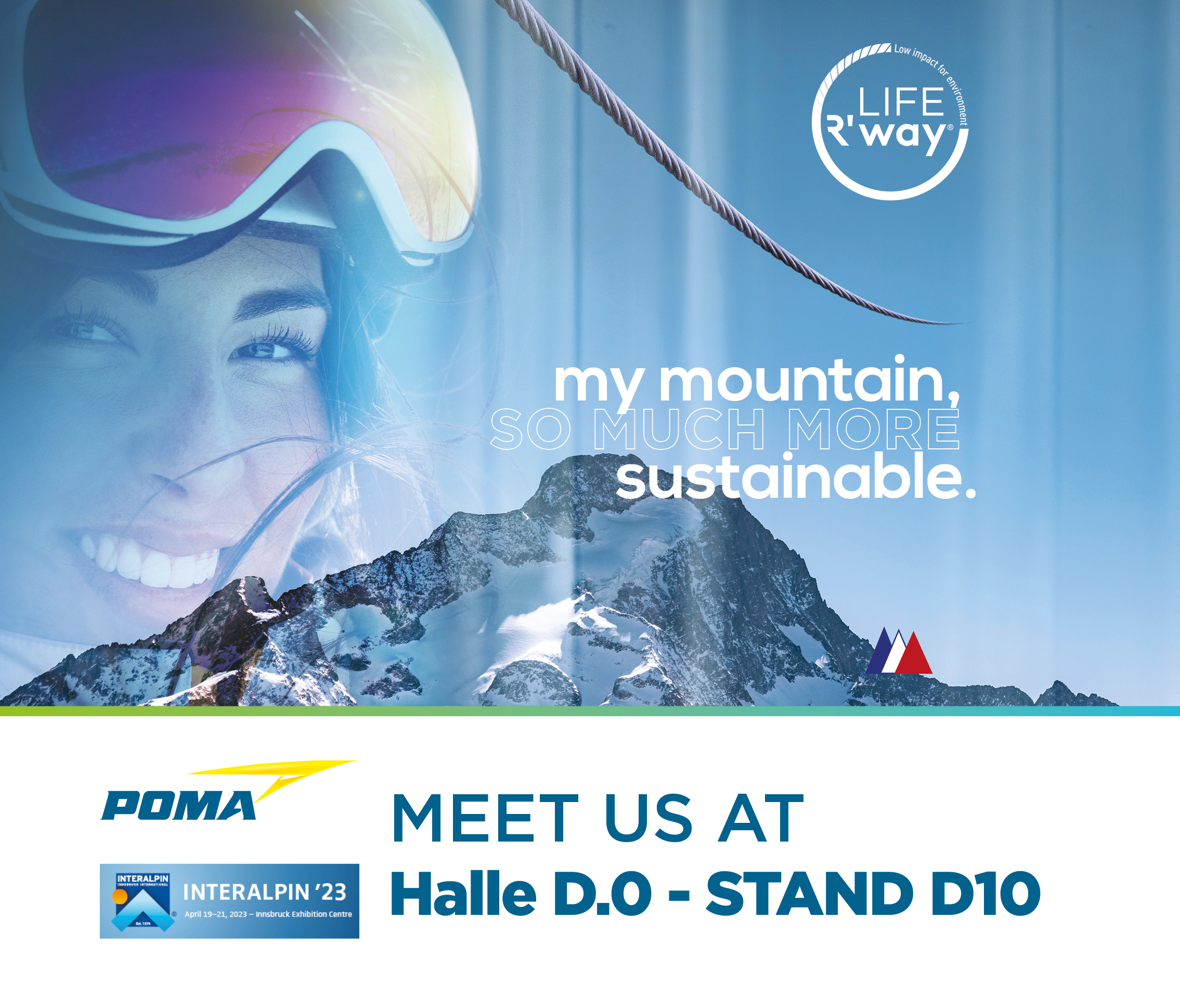 du 19 au 21 avril 2023
INTERALPIN, the international exhibition of alpine technologies
Every two years, INTERALPIN brings together mountain professionals around the sector's leading innovations. This event is an international meeting place for the key players in the industry, innovative companies, service providers and decision-makers in the cable transport industry.
POMA, a world leader in cable transportation, has been involved for several years in a process of innovation in favour of sustainable development. Our approach, called LIFE R'way, translates into a selection of products and services that are increasingly efficient and eco-responsible, for a lower environmental impact.
We invite you to discover our vision of ropeway mobility at stand D10 – Hall D.0 of the Exhibition Centre Messe Innsbruck, and let's commit together to a less carbon-intensive and more virtuous world.
21.09.2022

du 7 au 9 Juin 2022
EUROPEAN MOBILITY EXPO
Le Salon Européen de la mobilité, le EuMo Expo 2022 se tiendra du 7 au 9 juin à Paris-Expo Porte de Versailles, Paris.
Tous les deux ans, le EuMo Expo, rassemble plus de 250 exposants français et internationaux, tous acteurs du transport public et de la mobilité durable. Le Salon présente les meilleurs savoir-faire, innovations et politiques de transport en valorisant tous les modes de transport public, l'occasion de faire le point sur les dernières innovations matérielles, techniques et de gestion mises en œuvre dans tous les grands réseaux.
POMA, pionnier du transport par câble urbain intégré dans un réseau de transport, est heureux de participer à cet évènement et d'y présenter ses solutions innovantes et vertueuses pour la ville durable, aux côtés d'autres acteurs majeurs de la mobilité.
Rendez-vous sur notre stand pour découvrir nos actualités du groupe, participer aux agoras sur la mobilité par câble POMA, et rencontrer nos spécialistes des projets urbains.

21.09.2022
from 12 to 13 October 2022
12ème Colloque National Eolien
The National Wind Energy Conference 2022, will be held from 12 to 13 October at Parc Floral de Paris.
The National Wind Energy Conference will be held for the 12th time this year. Various wind energy experts, scientists, associations and companies come together to talk about new and already realized projects in the sense of the energy transition in France.
The National Wind Energy Conference offers a good opportunity to exchange information about new developments. The conference will give an outlook on future topics and discuss the common progress of the wind energy sector in France.
Visit our stand N°22b to find out about our  latest news and meet our experts in wind energy projects.
Specialised in onshore wind power, POMA-Leitwind  design, manufacture and install the first multi-megawatt onshore wind turbines assembled in France.
👉Click for more information on POMA-Leitwind https://www.poma.net/domaine/eolien-poma-leitwind/
👉Click here for more information on the event 12eme Colloque National Eolien (eventtia.com)

Change in leadership at POMA
FABIEN FELLI SUCCEEDS JEAN SOUCHAL AS PRESIDENT OF POMA
Change in leadership at POMA, a world leader in ropeway transportation since 1936:
After serving as the President of POMA for 12 years, Jean Souchal,has become President of the Supervisory Board, and will continue to support POMA in its missions as he has done for over 40 years.
Fabien Felli, Vice-President of the Management Board and Sales and Marketing Director since 2011, succeeded him as the President of POMA on 28 June 2022.
The French pioneer of sustainable mobility is writing a new page in its history, with a resolutely forward-looking outlook. Its core values, centred on people and innovation, remain at the heart of the Group's DNA.
About
POMA
With 85 years of existence and more than 8,000 transportation systems built in 90 countries, POMA is a world leader in ropeway transportation. Its sustainable transportation solutions transport 6.5 million people per hour. Present on five continents, POMA innovates and brings its know-how and expertise in ropeway mobility solutions to both urban and mountain areas, for tourism and industry. POMA's turnover was €332 million in 2021, including 50% from exports. POMA employs 1,300 people, of whom 820 are based in France at its various industrial sites.