POMA's subsidiary in South America


From the first devices in the Andes to the development of urban ropeway transport
The history of POMA in Latin America began in the 1960s in the ski areas of the Andes. For years, POMA promoted the development of Andean stations, even as urban ropeway transport was beginning to emerge as a promising solution. The pioneering Medellin Metro paved the way in 2004 with the construction of line K, the start of a long, enriching collaboration with POMA in Colombia.
In 2013, POMA established itself for the long-term by setting up its subsidiary POMA Colombia, with its head office in Medellin.
POMA Colombia is consolidating its local presence in close proximity to its Colombian and Latin American customers and is crossing a milestone: as an equipment supplier, it now offers comprehensive solutions.
Activities
of POMA Colombia
POMA Colombia builds ropeway transport systems, operates after-sales services, and offers maintenance and operating solutions in Latin America. POMA is a benchmark in the urban and tourist transport sector from Mexico to the southern tip of Argentina.
Construction
POMA Colombia manages construction projects for new ropeway transport systems throughout South America, from the preliminary design to the execution of works in compliance with international quality and safety standards.
Maintenance
POMA's Latin American subsidiary provides a locally-based service for all customers in the region. Its teams are entirely dedicated to their installations, with unparalleled expertise to carry out all maintenance operations and facilitate on-site operation. POMA Colombia offers personalised maintenance solutions such as:
Major inspections of roller batteries
Major inspections and complete overhaul of cabins
Annual inspection of ropeways according to European standards
Replacement and shortening of the main carrying-hauling rope
Inspections, overhauls and adjustments of devices
Modifications and programming of devices
Spare parts
POMA Colombia supplies custom parts and spare parts for POMA systems. Its proximity is a guarantee of responsiveness for customers in the region.
Operation
POMA Colombia provides the operation and maintenance service for ropeway transport systems, guaranteeing their availability, safety and durability.
Training
Drawing on the experience and expertise of its teams, POMA Colombia offers its customers training at all levels for the operation and maintenance of ropeway transport devices.
POMA Colombia key figures
2013
creation
95
employees
1600 sq.m
of offices and workshops
Pionneer
with 9 urban cable cars
6
urban cables car in Medellin
The close relationship we have forged with customers is a strength. We are by their side to guide them towards ever more innovative and sustainable solutions and this strong connection we have established contributes to the sustainability of our activities throughout Latin America. One of the challenges for the coming years will be to further digitise our processes, to offer ever greater security and availability. This is one of our commitments.

I was fortunate to be part of the creation and development of the POMA Colombia subsidiary, of which I was in charge for 7 years. With the construction of a dozen major new projects, and a marked increase in service activities, POMA Colombia has greatly contributed to the development of our activities in South America. We were also pioneers in structuring a committed CSR approach, driven by a very strong local movement here in Colombia. Propelled by the success of a management model for the operations and maintenance of our ropeway transport devices, other subsidiaries and structures have emerged in recent years, such as Telecabinas Kuelap in Peru or POMA RD in the Dominican Republic.

An innovation
at the service of users
Endurance-M. roller batteries
The POMA Group has innovated by jointly developing the new Endurance-M roller batteries with Medellin Metro.
Improved comfort for passengers
Fewer vibrations at towers and in the gondolas
Reduced noise levels for local residents
Optimised maintenance costs
Learn more about
POMA COLOMBIA

POMA's presence in Colombia, particularly in Medellin, is the most poignant symbol of French innovation for sustainable development. It is not only a transport system, but also a system of innovation in terms of social inclusion
Preservation of the environment and social responsibility
POMA COLOMBIA IS COMMITTED
ISO 9001 certification
The ISO 9001 certification certifies the Quality Management System of our organization in accordance with ISO 9001:2015, to improve the performance of the processes implemented and provide a solid foundation for business sustainability.
ISO 45001 certification
The ISO 45001 certification certifies the Occupational Health and Safety Management System in accordance with ISO 45001: 2018 and demonstrates the commitment to prevention of work-related injuries and health deterioration.
POMA Colombia receives Fenalco certification
Fenalco certifies corporate social responsibility.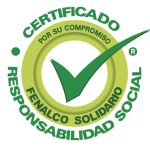 Sustainable development does not focus solely on environmental actions but also carries a social dimension. Throughout the year, POMA Colombia participates in numerous social, cultural and environmental actions in neighbourhoods located near ropeway transport facilities, and also supports local projects initiated by environmental organisations, social and cultural associations.
CONTACT
Parque Empresarial NORTIKO, Avenida 10 #52 – 80 Bodega 22. – Bello- Colombia